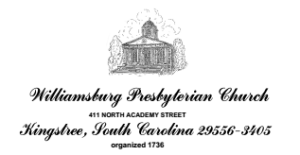 Dear Church family,
The congregational lunch for the kickoff of the Mission Study has been rescheduled for March 5th. For a while now, I have been telling you about the congregational Mission Study and I hope that you will make every effort to attend! During our time together on March 5th the Mission Study Team will present their plan for how they hope to gather information from all of you. Some of you may be asking yourselves, "Is this really necessary? Why is my input needed?" The answer is "Yes" to both questions!
The Mission Study is an invaluable step to prepare the church for the next Called and Installed Pastor. Your input is needed because every member of the church matters and every voice needs to be heard. When you elect a Pastor's Nominating Committee to begin the search they represent the joys, needs, and concerns of the entire congregation. In other words, it is not up to two or three people to decide what they think is important in the next leader of the church, but rather, to know everyone's thoughts so that they can reach a consensus of the whole body. Your input through the Mission Study is important, and valuable because it will help prepare the Search Committee for their work. Guided by the Holy Spirit as they reflect on your input, the Search Committee prayerfully will make a decision on the person who will be called to be your next pastor.
As the Mission Study Team gathers your input they will ask questions such as, "What fills you with joy when you think of your church?  Where can the church grow in its ministry and mission? How is God calling us to be disciples in our community? What type of skills do we need in a leader to help us reach the vision that God has called us to do?"
This is an exciting time at Williamsburg Presbyterian Church as you seek God's vision for your future. As I mentioned in the sermon a few weeks ago, "Whatever it is that God is calling us to do, however challenging it may be, however we are being called to share the light of Christ with others as we follow Jesus, do it with energy and enthusiasm just as the first disciples did." Church, my prayer is that that energy and enthusiasm is felt and experienced as the Mission Study begins on March 5th! See you there!
Peace, Josie