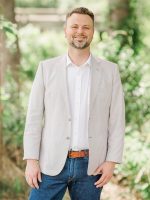 Organist and Choir Director
I began my teaching career in the Dorchester District 2 schools as an elementary music teacher at Flowertown Elementary School.  In 2007, I moved on to West Ashley High School where I taught Beginners Choir, Ladies Honors Choir, Mixed Honors Choir, Show Choir, Gospel Choir, Music Appreciation, AP Music Theory, and three levels of piano over a ten-year period.  My choirs consistently scored ratings of Excellent and Superior at state-level festivals.  While at West Ashley High School, I served as Faculty President and the Lead Choral Director for Charleston County School District.
In 2017, I became an Assistant Principal at R.B. Stall High School where I was one of two administrators over the Ninth Grade Academy.  Additionally, I was responsible for all technology and the school website.
In January of 2019, I transitioned to Human Resources where I was a traveling Teacher Recruitment Specialist.  This opportunity allowed me to travel to colleges and career fairs across the U.S., as well as assist candidates in becoming a teacher in Charleston County Schools.
In April of 2019, I began my tenure as Principal of J. Paul Truluck Creative Arts & Science Magnet School.  I believe that students deserve to be greeted by an excited adult every day.  I hope to help students and faculty reach their full potential.
Throughout my career, I have had the privilege to travel around the world and perform with professional singing groups.  I studied classical opera and piano performance in college and have played the piano for over 25 years.  I enjoy biking, hiking, traveling, and spending time with my Great Danes, Luna and Stella. I am currently the organist/choir director at Williamsburg Presbyterian Church.